The structure of beta-arrestin
Brian Kobilka group (Stanford University) and collaborators
G protein-coupled receptors (GPCRs) are critically regulated by multifunctional scaffolding proteins called beta-arrestins. The structural basis of GPCR-beta-arrestin interaction and beta-arrestin activation was lacking, but the labs of Brian Kobilka and of Robert Lefkowitz collaborated to solve the structure of activated beta-arrestin 1 to 2.6-Å resolution in complex with a phosphopeptide corresponding to the phosphorylated carboxy-terminus of the human vasopressin receptor. The X-ray diffraction data were collected at the GM/[email protected] beamline 23ID-D. The structure of activated beta-arrestin reveals a potentially universal docking interface for phosphorylated GPCRs and shows how the activation switches are turned on during the transition of beta-arretsin from inactive (or basal) to active state. This finding not only provides a structural basis for GPCR-beta-arrestin interaction, but it also reveals a potentially novel drug-binding interface.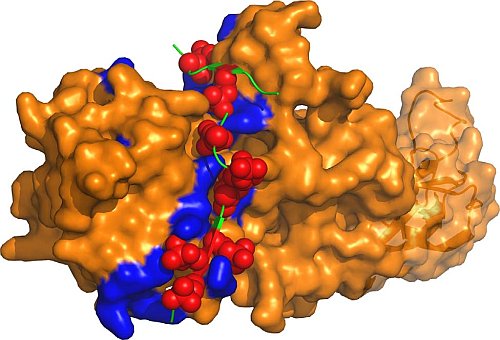 Figure: Surface representation of activated beta-arrestin 1 showing a potentially universal groove (positively charged residues in blue) and binding of the vasopressin receptor carboxy-terminal phosphopetide (in green). The phosphorylated amino acids are shown as red spheres.
Citation:
Shukla, AK, Manglik, A, Kruse, AC, Xiao, K, Reis, RI, Tseng, WC, Staus, DP, Hilger, D, Uysal, S, Huang, LY, Paduch, M, Tripathi-Shukla, P, Koide, A, Koide, S, Weis, WI, Kossiakoff, AA, Kobilka, BK, Lefkowitz, RJ. Structure of active beta-arrestin-1 bound to a G-protein-coupled receptor phosphopeptide, Nature 497, 137-141 (2013).