Class Ie Ribonucleotide Reductase (RNR) from Pathogens
Amie Boal group (Penn State University) and collaborators
The group of Amie Boal and collaborators determined crystal structures of bacterial class Ie ribonucleotide reductase (RNR). Every organism uses an RNR to convert ribonucleotides to the deoxyribonucleotide counterparts needed for DNA replication and repair. Class Ie RNRs exist only in some bacteria, including human pathogens or commensals, making them important drug targets. All previously characterized class I RNRs require a binuclear metal cofactor, activated in an oxygen-dependent reaction to form a potent oxidant that drives reaction with the substrate. The structure of class Ie RNR revealed a post-translationally-modified tyrosine in lieu of a metal cofactor for aerobic DNA synthesis. How the modification is installed remains unknown, but requires another protein, NrdI, also characterized by x-ray crystallography in this study. The work reveals a new way that bacteria have adapted to replicate and repair their DNA in the absence of transition metals, one that likely evolved to overcome trace element sequestration imposed by the human immune system. The activated form occurs only when the RNR is co-expressed aerobically with the flavin-dependent NrdI activating protein.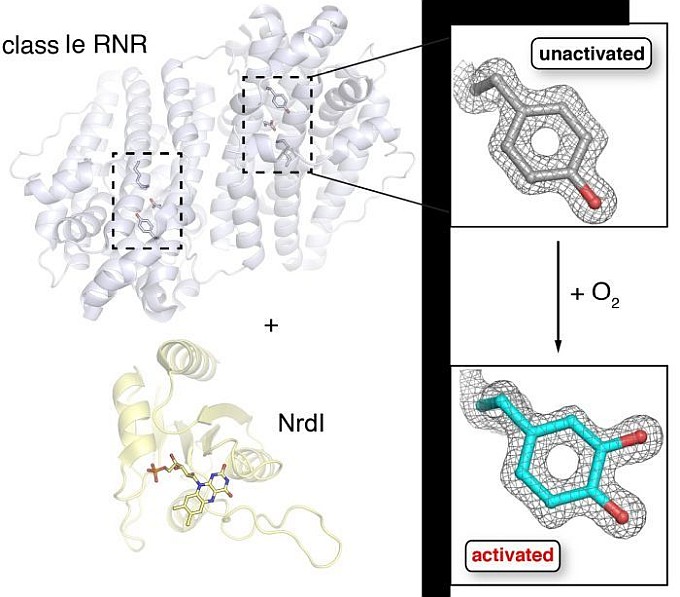 Figure: Class Ie RNR and NrdI are shown on the left; the covalent modification of a tyrosine that defines the activated and unactivated forms of class Ie ribonucleotide reductase (RNR) are shown on the right.
Citation: Blaesi, EJ, Palowitch, GM, Hu, K, Kim, AJ, Rose, HR, Alapati, R, Lougee, MG, Kim, HJ, Taguchi, AT, Tan, KO, Laremore, TN, Griffin, RG, Krebs, C, Matthews, ML, Silakov, A, Bollinger Jr., JM, Allen, BD, Boal, AK., Metal-free class Ie ribonucleotide reductase from pathogens initiates catalysis with a tyrosine-derived dihydroxyphenylalanine radical, Proc.Natl.Acad.Sci.USA 115, 10022-10027 (2018). DOI: 10.1073/pnas.1811993115.